All BCCADSV services are completely confidential and provided at no charge.
Advocacy, guidance, emotional support, information and referral provided to clients by telephone 24 hours a day, 7 days a week.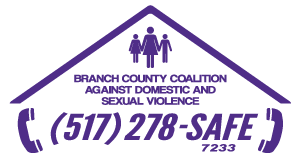 Non- Residential Services
Clients are able to access all services available to emergency shelter residents regardless of where they are currently living. This includes learning about the dynamics of domestic and/or sexual violence, individual goal planning, parenting and life skills, housing and legal advocacy, support groups, and counseling services.
Access to our 24-hour referral line for information and referrals regarding available community services.
Getting Ahead: Bridges Out of Poverty
Class structure that plans to put a person in a position to understand why they are in the economic turmoil they are in and how to get out by setting their own goals.
A 30-day emergency shelter for survivors of Domestic/Sexual Violence. While in shelter, case management is provided to include education on dynamics of Domestic and/or Sexual Violence, parenting, housing, public benefits, and understanding their rights as a victim of crime.
Public Awareness Services
Providing educational presentations and distributions of materials to the community that includes BCCADSV program overview, service eligibility, the societal and familial impact of Domestic and Sexual Violence, as well as the root causes and opportunities on how the individual can make a difference.
Assisting victims in securing rights, remedies, and services from other agencies. Locating emergency financial assistance, and intervening with possible employers and/or landlords is also part of the advocacy process.
Prevention Education Program
Presentations to school-age children on topics related to domestic and sexual violence, problem-solving using communication skills, dating violence and healthy relationships. This includes our A3 prevention programing developed for Pre-K-12. 
Education on understanding your rights and options as a domestic violence or sexual assault victim.  Assistance in applying for a Personal Protection Order, court accompaniment when requested and help navigating the criminal or civil justice system in regards to the crime of domestic violence or sexual assault.  Supportive services to help stabilize your life after a victimization. 
This program offers girls in 4th through 8th grade an after school program that will equip and empower them with the tools necessary to achieve a more positive self-image and discover their voice and self-worth.
Transitional housing is available to our survivors on site. We assist clients in stabilizing their home environment, teach tenant rights, and address poor credit histories. Case management services are also available to on-site tenants.
The goal for Backpack Buddies is to provide weekend meals to homeless students in Coldwater, Pansophia, Quincy, and Bronson schools. Food is delivered to students every Friday.
Shelter for homeless teens ages 17-20 who are dedicated to continuing their education. Case management is provided to assist with life skills, violence prevention skills, and accessing public assistance while learning independence.
Provide programs to educate and prepare girls for a lifetime of self-respect and healthy living. We envision a world where every girl knows and activates her limitless potential and is free to boldly pursue her dreams.
Assistance to homeless families with school-age children that  addresses barriers associated with homelessness and educational achievement. Financial resources are available to assist with school-related expenses.
We offer support groups that focus on the dynamics of Domestic and Sexual Violence. Support groups are available for adult clients, their dependent children, and child victims. Tuesdays Survivor's Group 12-1pm Tuesdays Women's Survivors Group 5-6:30 pm Tuesdays Children's Group 5:30-6:30 pm Wednesdays Sexual Assault Survivors Group 5:30-6:30pm
A traveling experiment (trailer) that is filled with a shoe display that corresponds with local unique audio stories. These stories showcase societal problems within our community including domestic violence, sexual assault, child abuse, food insecurity, health concerns, etc. These stories are told from a variety of perspectives. We ask you to listen with open hearts and minds. 
We ask…Will you come listen?
220 N. Michigan Avenue, Coldwater, MI 49036